Private Galleries / Archive Galleries:
Events are available to view and order online for a limited time.
The general galleries from events are available in the ARCHIVE galleries. We do our best to photograph everyone, but there is no guarantee without advance sign up for a private gallery confirmed.
Click here to see the Sign Up and Private Client packages available

Current year archives gallery access: $50 access fee gives you five days' access, and the $50 cash credit to your account, applicable to your image order. The gallery access fee is credited to your login account that you purchased access with, and automatically applies to any image order at checkout, from any gallery across the entire website.
Archive access is ONLY for the event you selected and confirmed at checkout before submitting payment for the gallery access. Unused credits remain on your account for one month, and can be used in any gallery.
The system does not allow account credit to apply to purchasing gallery access. Account credit only applies to image orders.

Prior years' archive access is $20 not applicable to your order. Three days access.

How to use download credit(s) for INSTANT DOWNLOAD:

Log In

Go to the gallery (can also be accessed via MY ACCOUNT / FIND MY PHOTOS , click on the gallery you have access to right there, no password needed)
Select photo
Select DOWNLOADS product category -
That will show you there that you can instantly download right there, without adding anything to your cart! No checkout, no payment, just select to apply download credits and instantly download right there! See screen shots below!
Be sure you know where downloads are saved to on your device, because it is INSTANT!! (Some people
have trouble not knowing where downloads save to on their device - I always use the computer because I know where downloads save to on there! Lol )
WHEN YOU HAVE ONE DOWNLOAD CREDIT, YOU CAN PURCHASE ADDITIONAL DOWNLOAD CREDITS FOR $50/EA.

You can buy additional download credits ONLY if you already have at least one download credit. If you don't have any download credits, the option to use or purchase download credits does not appear.
1 download credit = 1 small / 2 download credits = 1 medium.
Download credits are download credits, not cash credits.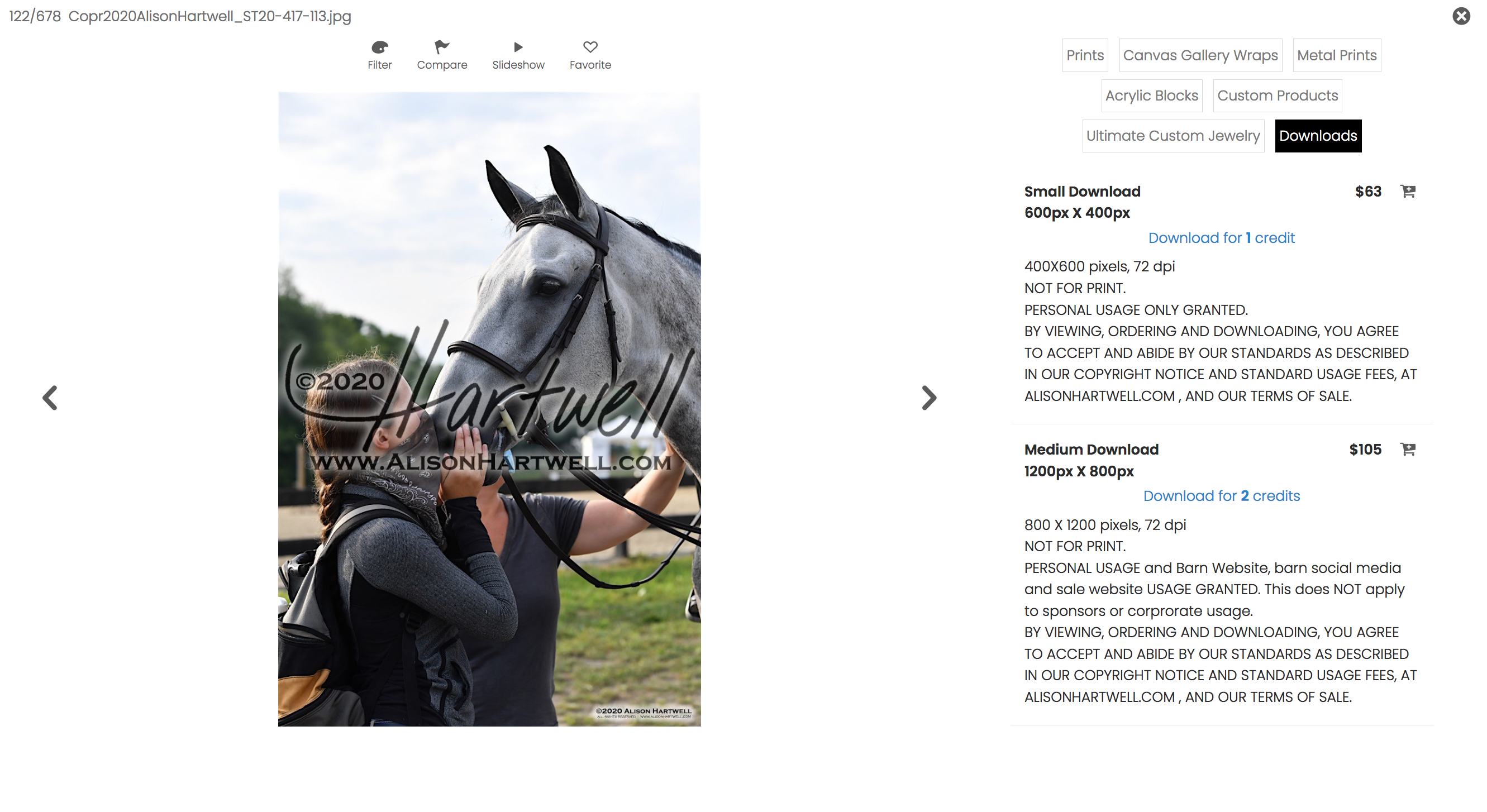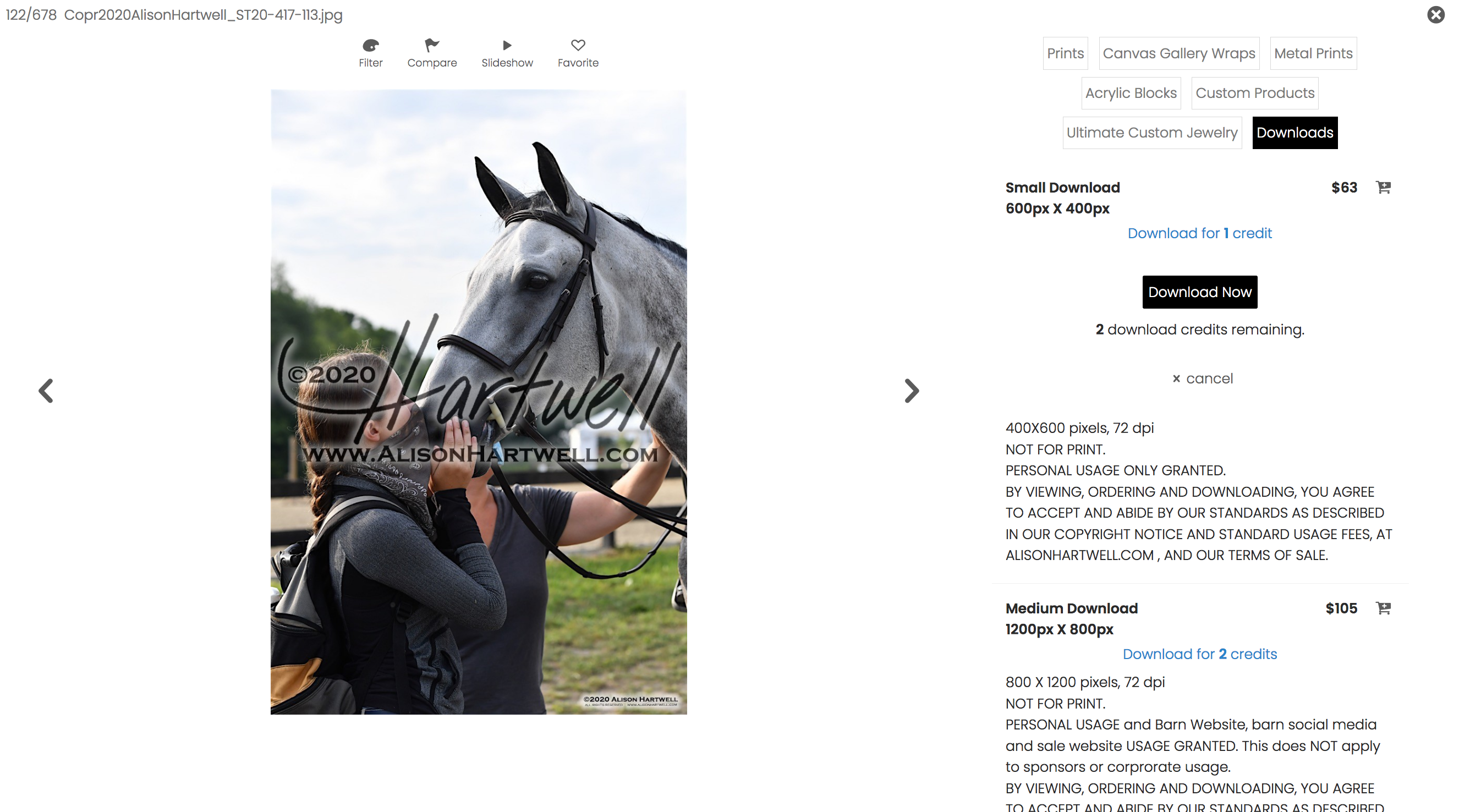 Sign Up and Private Client Galleries:

Sign Up and Private Clients take priority. The advance sign ups offer a guarantee of coverage, and all sorts of exclusive benefits!
Click here to see the Sign Up and Private Client packages available
All Sign ups must be confirmed in advance. If you sign up by Monday before the show week begins, there are really fantastic deals.

I will always do my very best to help - I'm here with all my love. My team and I are always working very hard to make sure everyone who wants photos has them!
Customizations
Customized edits and options are available as add-ons to prints ordered (ears forward, remove small item from background.) Each and every standard photo order, whether or not customized, is handled by renowned Graphic Designers, and printed by a small independent print lab that specializes in Fine Art. All done on an individual basis. We can and do offer more detailed design, as we take great pride in offering individual attention to our clients' needs. A variety of private projects and customized items are available - anything you can imagine using our images, we can bring together for you!
Digital Files

Product descriptions are detailed in the price list, cart, checkout before purchase, and receipts.
See examples below.
Proofs posted on the website are MEDIUM digitals. Medium digital files are 800x1200 pixels.
The Smalls digital files are half the size of the proofs. Small are 400x600 pixels.

When you order a digital file alone, it is delivered automatically and immediately after your order has been processed. You will immediately receive and email with the link to the download. This is an immediate download for you.
If you are using download credits, see directions above - when you click "download now" , that's it!
If you order a digital file that is discounted as an add- on to a print order, that is fulfilled and delivered manually - it is not an instant download.

When you order a digital file, it is for the specific usage purchased only, See product descriptions and terms and conditions.
Photos ordered as digital files are signed differently than on prints ordered, and downsized for web / digital usage only. NOT FOR PRINT. NO PRINT PERMISSION GRANTED.
For posting to social media, we have found that using an app like SquareFit, fits/resizes the images for posting to social media with the least distortion. Social media sites usually resize, crop, stretch, distort automatically, so we found that the SquareFit app works well - especially with the SMALL digital files - they are basically thumbnails! All the digital files we deliver ARE NOT FOR PRINT, AND CAN NOT be cropped, stretched, zoomed in, etc without significant distortion, as they are all relatively small and low resolution to begin with, to protect from unauthorized reproductions/printing thereof.
View the difference in size / resolution on a laptop - the small digitals are VERY small!

Small (400x600 pixels, 72 dpi) are VERY SMALL and are for PERSONAL USE ONLY, as described on the terms and conditions page.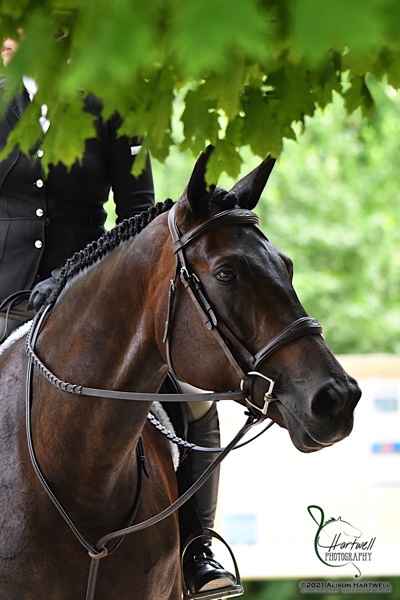 Medium (800x1200 pixels, 72dpi) The size of proofs in the galleries. Medium digitals give PERSONAL USE PLUS permissions, described on the terms and conditions page.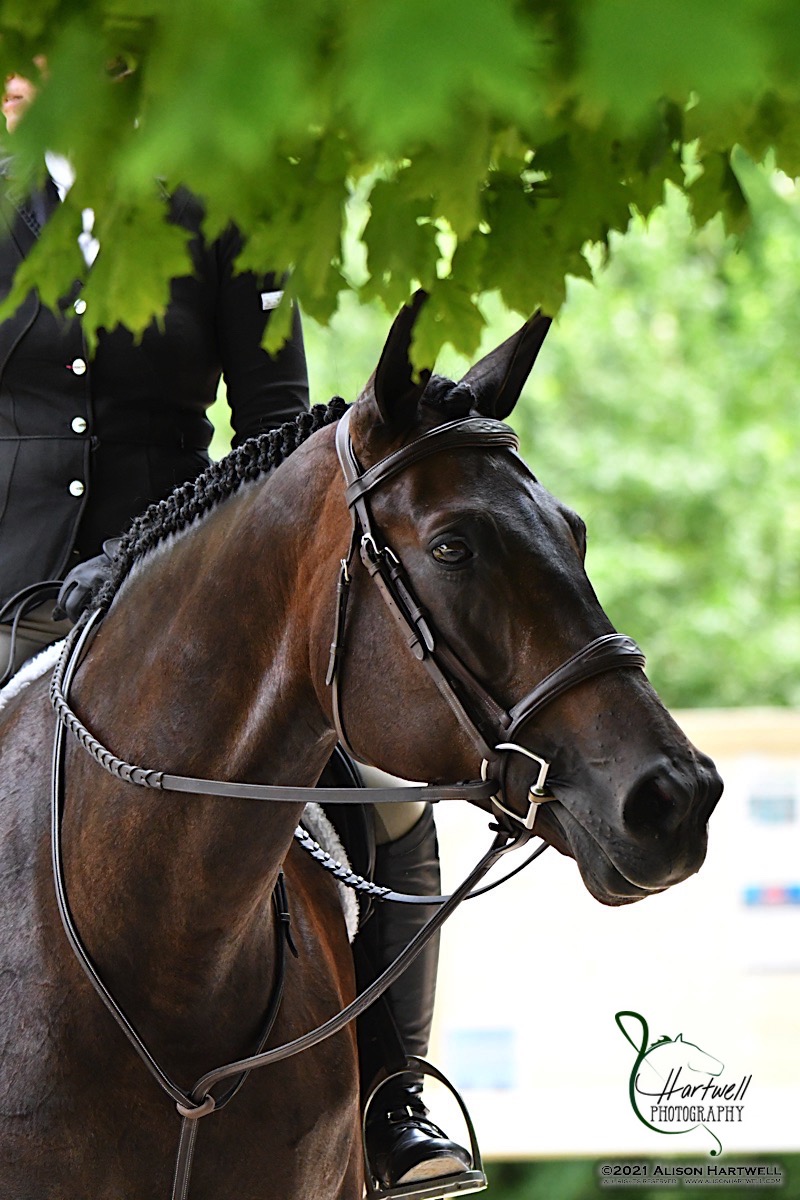 Delivery of orders
For all orders, including digital, we always say, "please allow four to six weeks for standard delivery." We say this to be safe, and so that you may be happily surprised when they arrive sooner!
Payments and Shipping
We accept all major credit cards, Paypal and Venmo.
Checks and money orders may be mailed, accompanied by a print out of the order enclosed.
ORDERS WILL NOT BE PROCESSED UNTIL PAYMENT HAS BEEN CONFIRMED.
Each image ordered is handled individually by specialists, every step of the way in our services, for the absolute best quality, delivered to you. Please allow four to six weeks for standard delivery. Customizations may take longer. Express shipping is an option available upon checkout.
Express processing is available for a 100% fee, not including shipping. Send an email or call us to inquire.
Additional shipping fees may be invoiced separately, if international or if custom products are ordered beyond what is listed in our shopping carts. No order will be fulfilled without full shipping fees confirmed receipt.

Returns and Refunds:

All delivered digital products and services including gallery access, are non-refundable.

If there is a problem with a print product delivered, you must contact us and return it within 30 days of it being delivered to you; If we are unable to correct and/or replace the item to deliver replacement within four to six weeks from the date of the returned item received, you will be refunded for the item returned.

Contact us for any inquiries.

Private Events / Portrait Sessions:
$500 SESSION:
-Up to two hours
-Free download of all small digital proofs
- Private Gallery with discounted price list, active for four weeks
-10% off all print/product orders from private gallery
$1000 SESSION:

-Up to four hours
-Free download of all medium digital proofs, for web only use, but gives permission for barn website / social media and online horse for sale websites as well.
- Private Gallery with discounted price list, active for four weeks
-50% off all print/product orders from private gallery
-One 16x20" canvas (or cash equivalent credit to account)
Private gallery is posted within 48 hours (usually immediately after shoot, but depends on web access and my travel schedule, so I say 48 hours to be safe.) Prices do not include travel expense. Additional image usages from a private gallery (or any event) are on a case by case basis, negotiated by my agent. The more detailed your plan is for exactly what images and usages, the better of a package my agent can negotiate for your specific needs.
Contact us for more detailed information and schedule booking availability.


Loading more pages